Scholarly Interviews on Educational Research and Doctor of Education Dissertations
Scholarly research is at the center of education leadership and improvement. From the doctoral dissertation to the cycles of education program development, implementation, and evaluation/assessment that education leaders use in the field, gathering and interpreting data on education outcomes is a key skill for anyone looking to step into an educational or organizational leadership role. For individuals who are interested in what the research process involves, OnlineEdDPrograms.com has created a dedicated Scholarly Interview series, featuring in-depth interviews with EdD graduates about their dissertations, as well as discussions with education leaders and scholars in the field regarding their research process and how it is integrated into the other aspects of their work.
Through the interviews in this series, prospective EdD students and education professionals can learn the following:
The process of identifying and refining actionable research questions.
The diverse education challenges and issues that education scholars have investigated with the aim of improving the quality of and equitable access to education.
The different research methodologies that education scholars employ, including qualitative, quantitative, and mixed methods research.
The ways in which EdD students' dissertations enhance their professional work and shape their career trajectories.
How the dissertation research process parallels (and yet is distinct from) in-the-field research that advanced education leaders use to assess and improve education programming and learning outcomes.
---
Ed.D. Dissertation Interviews
Interview with Justin Lindsey, Ed.D. – Calhoun City School District in Georgia
Dr. Lindsey is the Exceptional Student Services Lead Teacher and the Coordinator for Career and Technical Instruction for Calhoun City School District, and a graduate of the University of West Georgia's EdD in School Improvement program.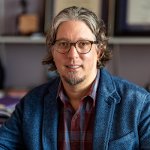 Interview with John McNaught, Ed.D. – James Madison University
Dr. John McNaught is Co-Director of James Madison University's Training and Technical Assistance Center, and is a Co-Founder of and Principal Investigator for Virginia's impactful I'm Determined Project.
Interview with Ryan Palmer, Ed.D. – AMOpportunities
Dr. Ryan Palmer is Head of Clinical Partnerships at AMOpportunities, where he establishes partnerships with healthcare institutions in order to build clinical training capacities for clinical students. He is an expert in medical curriculum design and remote learning community-building.
Interview with Seth Robins, Ed.D. – Brigham Young University – Idaho
Dr. Seth Robins is a Professor in the Academic Success Department at Brigham Young University, where he is also Faculty-Director of the English as an International Language Center. He teaches courses in and oversees academic success programming for first-year students and English Language Learners.